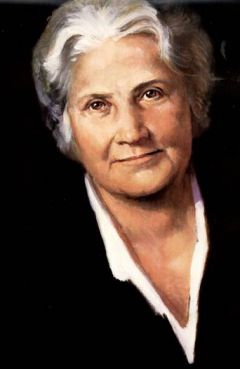 Dr. M. Montessori
"The preschool aged child can learn more easily and efficiently than at any later period of life."
The Montessori Method strives to help children to:
Develop fine sensory-motor coordination;
Discover the fun of achieving and doing things "by myself";
Improve self-confidence and skills in independent learning;
Develop habits of initiative, persistence and a sense of order;
Sharpen the ability to perceive, observe and judge more accurately; Experience happiness in learning and fostering creativity;
Acquire habits of concentration and positive self-image;
Develop an abiding curiosity to learn and for sensitivity to others;
Develop the foundations for success in reading, writing and arithmetic.
(Source: American Montessori Society, Parents Manual)
In summary, the Montessori Method is designed to better prepare children for a life in a rapidly changing society.
For more detailed information on the Montessori Method, we recommend the following books:
Maria Montessori, The Secret of Childhood, New York: Ballantine Books, 1966.
Paula Polk Lillard, Montessori A Modern Approach, New York: Schockten books, 1972.
R.C. Orem, Montessori Today, New York: G.P. Putman Sons, 1971.